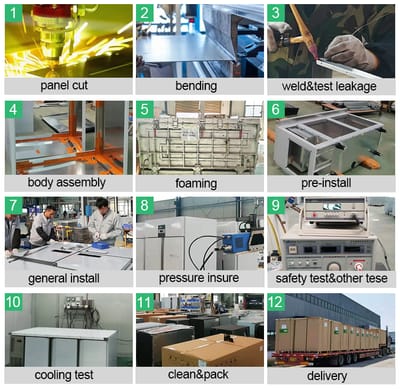 Step 1: Panel Cutting
The laser cutter cuts stainless steel panels, ready to make the body.
Step 2: Bend
The cut panels are bent into the desired shape by the bending machine.
Step 3: Solder and Test for Leaks
Welding the panels together from pieces, then polishing them nicely. Then testing for leaks by the nitrogen air.
Step 4: Body Assembly
Make panels and parts together, ready to foaming.
Step 5: Foam
Forcing foamed material into the well-assembly body with a foaming density of 42kg-45kg/m3.
Step 6: Preinstallation
To install compressor packs, thermostats, cables, feet, or wheels.
Step 7: General Installation
Welding and finishing of copper pipelines.
Step 8: Stress Insurance
If the condition of pressure is good, perform vacuum suction and charge refrigerant.
Step 9: Safety Testing and Halogen Testing
We have to do safety checks and halogen testing.
Step 10: Cooling Test
Running a cooling test for a certain amount of time is a must to make sure you have a well-running machine.
Step 11: Cleaning and Packaging
Counter freezers or chillers will be packed in carton boxes, or plywood cases, ready to ship.
Step 12: Delivery
Transporting goods to the port.