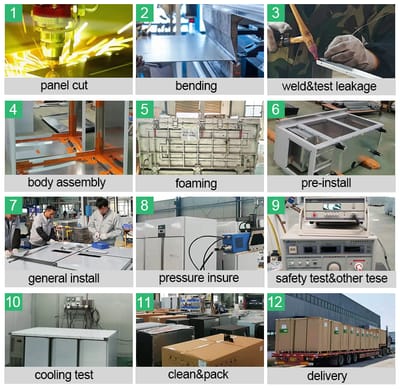 Step 1:
Panel Cut
The Laser machine cuts panels ready for making body.
Step 2:
Bending
The bending machine bends cutted panels into needed shape.
Step3:
Welding and Test Leakage
Masters weld panels together, then polish them. And use nitrogen air to test leakage.
Step 4:
Body Assembly
Assembly panels, parts together before foaming.
Step 5:
Foaming
The Foaming machine injects foaming material into the well-assemble body. Our foaming density is 42kg-45kg/m3.
Step 6:
Pre-install
We install a compressor unit, a thermostat, electric cables, and feet or wheels.
Step 7:
General Install
Copper pipe line organizing and welding, tidying.
Step 8:
Pressure Insure
To make sure the pressure is in a good status, than doing vacuum sucking, and charging refrigerant.
Step 9:
Safety Test and Halogen Test
We must run a safety inspection, and doing halogen test.
Step 10:
Cooling Test
Runing a certain time for cooling test is a must to ensure you have a good runing machine.
Step 11:
Clean and Pack
Before shipping, our staff will clean upright commercial refrigerators, than pack them in a carton box, or with wooden package.
Step 12:
Delivery
A driver transports machines to the port of departure.