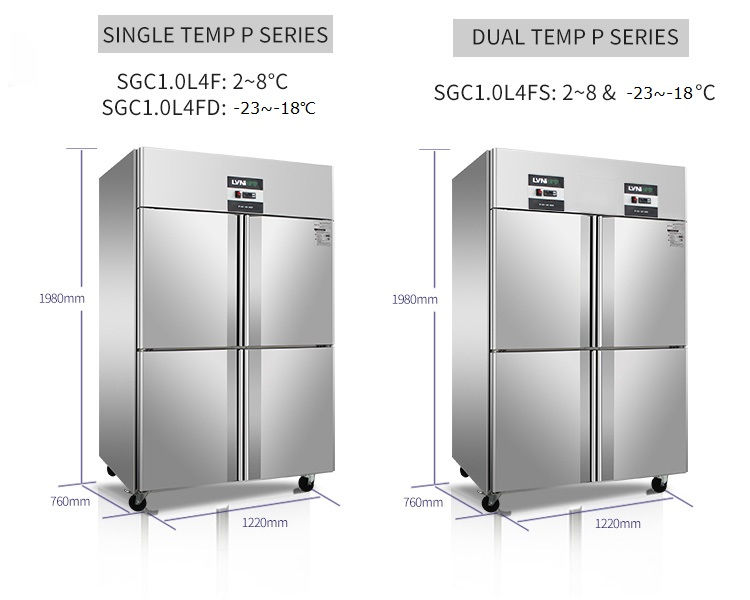 Commercial dual-temperature freezer is one of the freezer forms of the freezer series, that is, a freezer with two temperature zones; it is to divide a freezer into two parts, one is the refrigerated area, and the other is the freezing area. Ordinary household refrigerators It's all this design.
With the development of the catering industry and the improvement of consumer requirements, there are many different requirements for the temperature range of food storage
For example:
1. The best refrigeration temperature for fresh fish is about -2~0 degrees Celsius;
2. Fresh meat is frozen at -18~-21 degrees Celsius; 3. Bucket beer and bottled beer should be stored at +1~+15 degrees Celsius; 4. The best temperature for cold storage of fresh milk is +1~+4 degrees Celsius; 5. The best temperature for storing vegetables is +7~+10 degrees Celsius; Celsius;
Two independent temperature zones are created in a commercial refrigerator, mainly to meet the user's requirement that there are two storage temperature spaces available in a limited space area; it is also a design to deal with the narrow space of commercial kitchens.
Hunan LVNi Intelligent Technology Co., Ltd.
FACTORY ADD.: BDG NO.3-4, ZHENGZHU SOUTH ROAD, YONGZHOU CITY, HUNAN PROVINCE
SALES HEADQUARTER ADD.: NO. 701, BUILDING CHENGYE SKYCRAPER, NO. 798, XINGNAN STREET, SOUTH VILLAGE TOWN, PANYU DISTRICT, GUANGZHOU CITY
Welcome to consult for more knowledge about refrigerators!